The ceiling truly functions as the fifth wall of a room.
And if you include the ceiling in your design, you get one more surface to transform into something beautiful. At Fuller Interiors, we love to add color and pattern in unexpected places, so a carefully-considered ceiling design is one of our favorite recommendations.
If you're concerned that a wallpapered or textured ceiling will be too unconventional for your space, remember—a decorated ceiling is as classic as it comes. Think of a vintage tin ceiling in a Victorian-style pub, or the dramatic Chihuly floral installation at the Bellagio in Las Vegas, or even the Sistine Chapel.
A decorated ceiling draws the eye upward and rewards it with something interesting and dramatic. Looking for ideas? We have a few…
1. Textured Wallpaper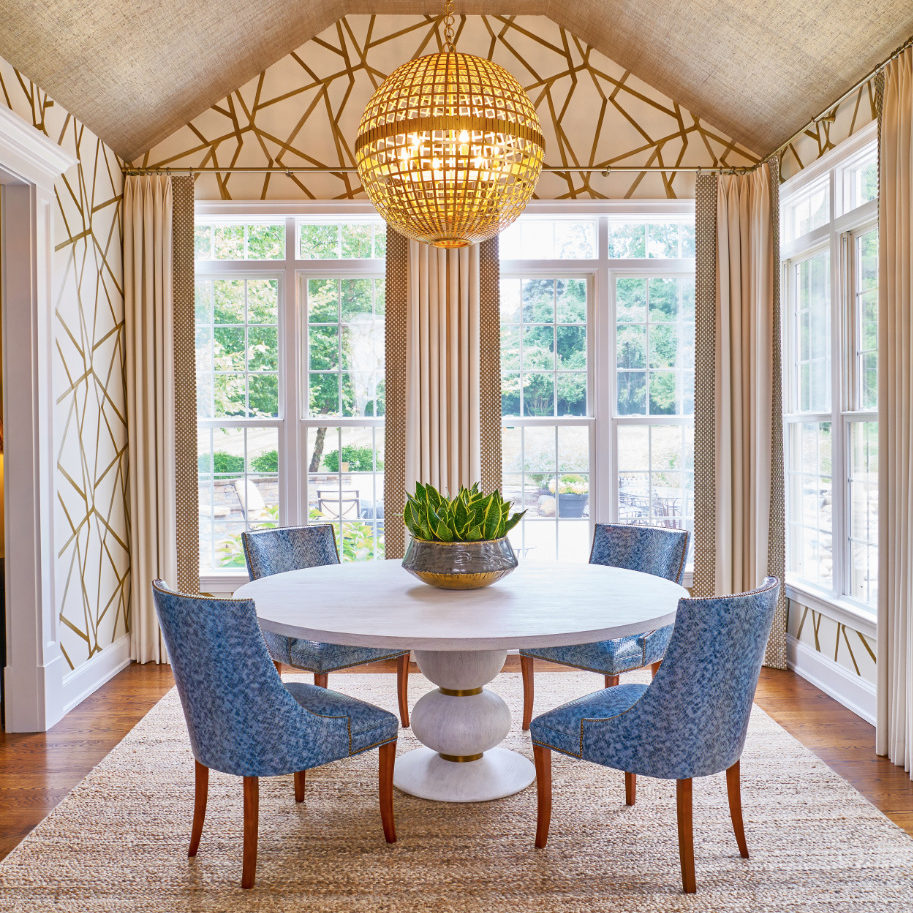 Wallpaper on the ceiling can be earthy and textural—serving as a contrast to more dramatic, graphic elements.
2. Patterned Detail
The three-dimensional, decorative elements on this ceiling intersect perfectly with the lighting.
3. Planks and Beams
A comfortable blue and white color palette gets elevated by intersecting beams and crisp, white planks.
4. Cleanly Coffered
A coffered ceiling brings the room up to a new level. You can go white, as we did here, or consider contrasting color.
5. Gold Leaf
Gold is an unexpected element and a fabulous way to highlight a classically beautiful piece of lighting.
6. Elegantly Rustic Wood
Bring the design down to earth with rustic but pretty planks. Stain them any color you like—to contrast with other elements or work directly with them.
7. Ceiling Pattern & Interesting Lighting
Sometimes the most important part of the ceiling is the lighting. In this dining room, we went with a delicate—but still perfectly eye-catching—option.
8. High Gloss. High Drama.
Ceilings are traditionally painted with a flat finish—but a lacquered or high gloss ceiling is an amazing option.
9. Subtle Contrast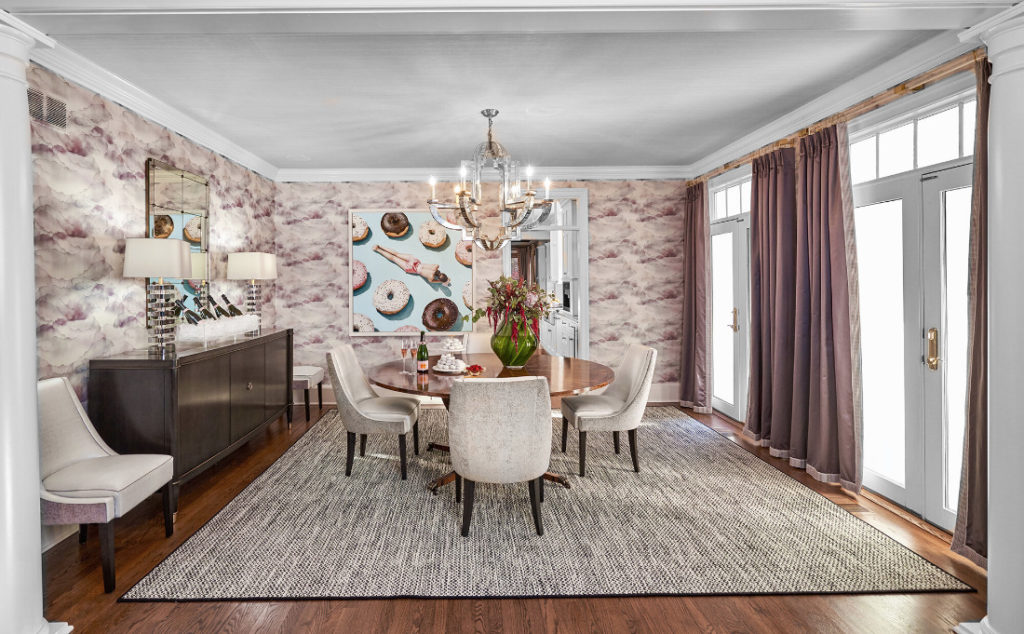 When a room is full of interesting elements, the ceiling treatment can be more subtle. That, however, doesn't mean you need to default to white. The grey ceiling in this dining room creates dimension and interest.
10. Get Graphic
There are infinite options to get creative with your designer—from hand-painted patterns to graphic wallpaper.
---
When and Why?
1. A Unique Ceiling Design Adds Character
A wallpapered or gold-leaf ceiling element is special. It's an unexpected feature that makes a room really memorable.
2. Decorative Elements Take the Edge Off an Irregular Space
For rooms with a funny angle or slant, treating the ceiling like a wall can help make the space look intentional instead of unbalanced.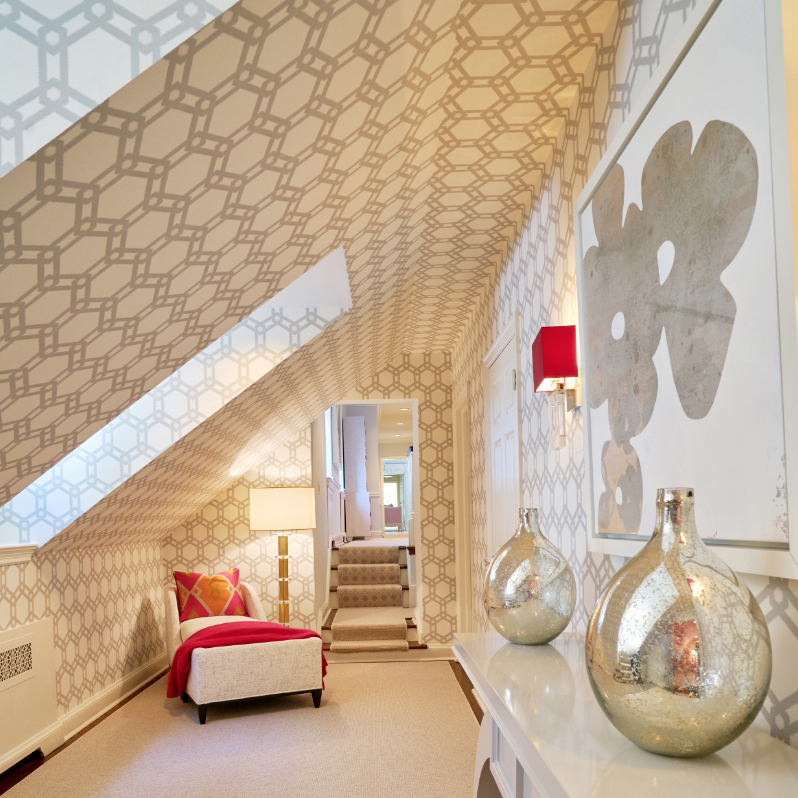 3. A Ceiling Can Introduce a Touch of Color
Much like an accent wall, ceiling wallpaper can bring a burst of color into a room without overpowering the space.
4. Wallpaper on the Ceiling Can Bring Pattern Into a Room
A big, bold pattern might be too much if you put it on all four walls but when just on the ceiling—it makes for a deliciously fun feature.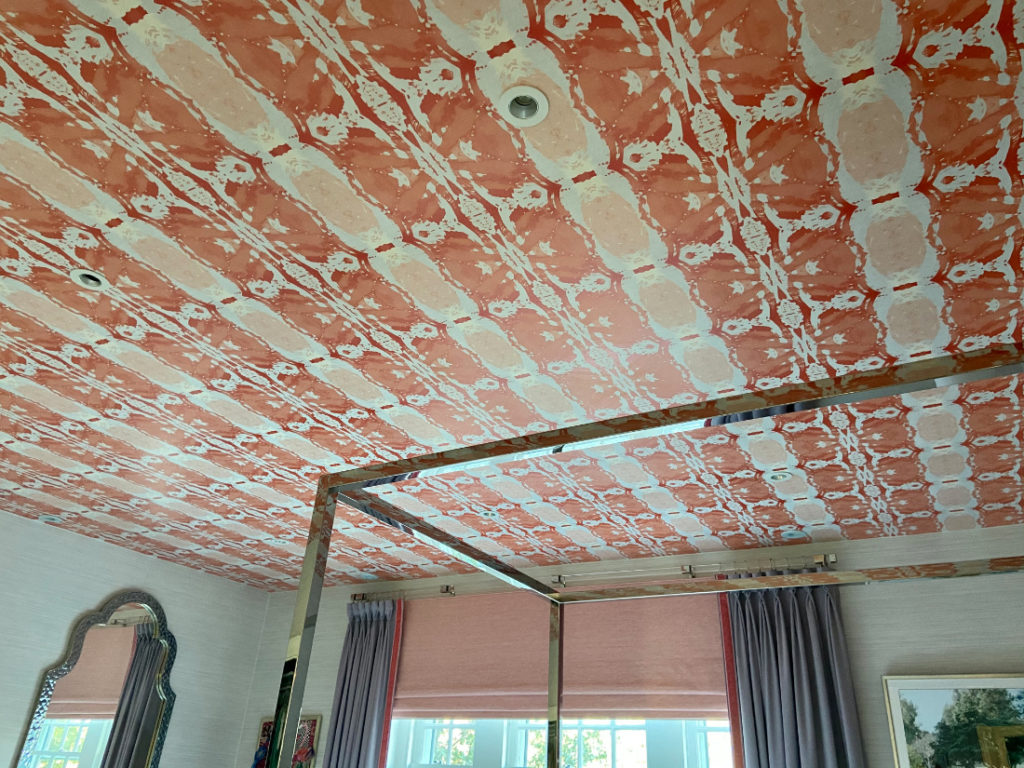 ---
How to Make it Work…and What to Avoid
Here's a peek into our approach and some advice to integrate a ceiling design:
1. Don't be afraid to go bold
If you've decided to make a statement with one of the brighter of more graphic elements, really go for it! Lively patterns and bright colors create a look that makes a lasting impression.
2. Consider painted patterns
If you're not finding the look you want with wallpaper, consider working with a designer to paint a decorative motif on the ceiling instead. With a painted pattern, you can create long lines or large shapes instead of a repeating image.
Painted ceilings have the same design benefits as wallpapered ceilings. We just execute them differently.
3. Don't overwhelm the room
Wallpapered ceilings with bold patterns work best in a space that is otherwise fairly neutral. If you've already chosen bold wall colors or strong fabric patterns, a wallpapered ceiling may be too much. You may want to go with one of the more subtle or textured options.
Remember, not every surface has to be the main event.
If this is a look you can't wait to try, give us a call! We'd love to hear about your project.